Prostate cancer is a common form of cancer that affects the prostate gland, a small walnut-shaped gland in the male reproductive system. The prostate gland produces fluid that nourishes and transports sperm. Prostate cancer can be a serious and life-threatening disease, but early detection and treatment can greatly improve outcomes. In this article, we will discuss the symptoms, diagnosis, and treatment of prostate cancer.
Symptoms:
The early stages of prostate cancer often do not produce noticeable symptoms. As the cancer grows and spreads, it may cause symptoms such as frequent urination, especially at night, weak or interrupted urine flow, pain or burning during urination, and blood in the urine or semen.
Diagnosis:
Prostate cancer is often detected through a routine screening test called a prostate-specific antigen (PSA) test. A PSA test measures the level of PSA in the blood. Elevated levels of PSA can indicate the presence of prostate cancer. Other diagnostic tests for prostate cancer include a digital rectal exam, in which the doctor feels the prostate gland for any lumps or abnormalities, and a biopsy, in which a small sample of tissue is taken from the prostate gland for laboratory analysis.
Treatment:
Treatment for prostate cancer depends on several factors, including the stage and grade of the cancer, the patient's overall health, and the patient's personal preferences. Common treatments for prostate cancer include:
Surgery: Surgery to remove the entire prostate gland, called a radical prostatectomy, is a common treatment for prostate cancer.
Radiation therapy: Radiation therapy uses high-energy rays to kill cancer cells. There are two types of radiation therapy for prostate cancer: external beam radiation therapy, in which the rays are delivered from a machine outside the body, and brachytherapy, in which radioactive seeds are placed inside the prostate gland.
Hormone therapy: Hormone therapy, also known as androgen deprivation therapy, works by blocking the production of testosterone, a hormone that stimulates the growth of prostate cancer cells.
Chemotherapy: Chemotherapy is a treatment that uses drugs to kill cancer cells. Chemotherapy for prostate cancer is usually given in combination with other treatments, such as radiation therapy.
Active surveillance: Active surveillance, also known as watchful waiting, is a treatment option for men with early-stage prostate cancer that is not causing symptoms. With active surveillance, the patient is closely monitored for any changes in the cancer, and treatment is only started if the cancer starts to grow or spread.
In conclusion, prostate cancer is a common form of cancer that affects the prostate gland in the male reproductive system. Symptoms of prostate cancer can include frequent urination, weak urine flow, pain during urination, and blood in the urine or semen. Diagnosis of prostate cancer is typically done through a PSA test, digital rectal exam, and biopsy. Treatment for prostate cancer depends on several factors and can include surgery, radiation therapy, hormone therapy, chemotherapy, and active surveillance. If you have any concerns about prostate cancer or your risk of developing it, be sure to speak with your doctor.
How do prostrate cancer spread
Prostate cancer can spread, or metastasize, in several ways. The most common way for prostate cancer to spread is through the lymphatic system, which is a network of vessels and nodes that help the body fight infections and disease. When prostate cancer cells spread to the lymph nodes, they can then travel to other parts of the body.
Another way that prostate cancer can spread is through the bloodstream. Cancer cells can break away from the original tumor in the prostate gland and enter the bloodstream, which can then carry the cancer cells to other parts of the body.
The most common sites for prostate cancer to spread to include the bones, lungs, liver, and brain. When prostate cancer spreads to other parts of the body, it is known as metastatic prostate cancer.
Metastatic prostate cancer can cause symptoms such as bone pain, shortness of breath, fatigue, and weight loss. If prostate cancer has spread to other parts of the body, it can also affect the function of organs and cause additional health problems.
It's important to detect and treat prostate cancer as early as possible, as early treatment can greatly improve outcomes and prevent the cancer from spreading. Regular prostate cancer screenings and following a healthy lifestyle, such as maintaining a healthy diet, exercising regularly, and avoiding tobacco and excessive alcohol consumption, can help reduce the risk of developing prostate cancer. If you have any concerns or questions about prostate cancer, be sure to speak with your doctor.
Revolutionizing Prostate Cancer Care: Unraveling CyberKnife Procedure Details
The CyberKnife procedure stands at the forefront of technological advancements, boasting a remarkable success rate in the treatment of prostate cancer. Let's delve into the intricacies of this innovative approach, shedding light on the procedural details that contribute to its efficacy.
Targeted Area Marking:
The process initiates with the surgeon marking the targeted area using a gold marker. This marker serves as a guiding beacon, tracking the tumor's position with precision throughout the treatment.
Space Hydrogel Placement:
To safeguard surrounding tissues, a space hydrogel is strategically placed between the prostate and the rectum. This spatial adjustment aims to create a buffer, minimizing the impact on adjacent structures.
CT Simulation and Imaging:
Following the placement of spaceOAR, a CT simulation is conducted, mirroring the positioning required for the actual treatment. Additional imaging modalities, such as MRI and PET scans, capture detailed pictures of the prostate, enriching the pre-treatment assessment.
Real-time Monitoring with X-ray Cameras and Sensors:
The procedure involves the utilization of x-ray cameras to track tumor positioning and sensors to monitor the patient's breathing. This real-time monitoring ensures a dynamic adaptation to any shifts during the intervention.
Precision Delivery by CyberKnife Robot:
The cyberknife robot, equipped with robotic arms, dynamically moves around the tumor site. This autonomous adjustment accommodates variations in patient breathing, ensuring unparalleled precision in treatment delivery.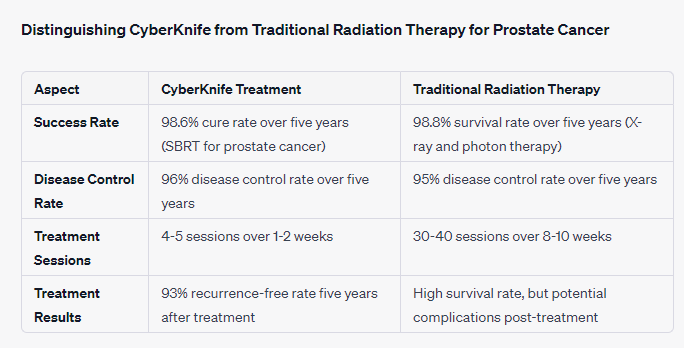 Preparing for CyberKnife Treatment: A Comprehensive Guide
Before embarking on the CyberKnife journey for prostate cancer, meticulous planning and preparations are essential. Here's a step-by-step guide:
Pre-operative Tests:
CT scan
MRI (Magnetic Resonance Imaging)
Angioplasty
PET scan
Preparations Before CyberKnife Treatment:
Wear loose clothes or a hospital gown.
Adhere to any prescribed diet plan.
Take prescribed medications.
Avoid applying moisturizer or lotion at the surgery site.
Arrange for a companion to accompany you for post-surgery transportation.
Identifying Ideal Candidates for CyberKnife Treatment
CyberKnife emerges as an optimal choice for minimally invasive intervention, ideally suited for early-stage or less aggressive prostate cancers. Candidates for this procedure typically exclude individuals with conditions such as enlarged prostate, potential tumor spread to lymph nodes, or existing cancer in the lymph nodes. For those with an enlarged prostate, preliminary hormone therapy may be administered to facilitate subsequent CyberKnife treatment.
Unlocking the Benefits of CyberKnife Treatments for Prostate Cancer
The advantages of opting for CyberKnife treatments extend beyond its alternative status to traditional radiation surgery. Key benefits include:
Excellent recurrence-free rate
Minimal time investment
Anesthesia and incision-free procedure
Swift recovery
Mitigation of side effects
Navigating Potential Side Effects with CyberKnife for Prostate Cancer
While CyberKnife boasts a non-invasive profile, exposure to rectal or bladder walls during radiation delivery may trigger some side effects. These potential side effects encompass:
Blood in stool
Vomiting
Urinary problems
Gastrointestinal issues
Erectile dysfunction
Radiation pneumonitis
Breathlessness
Cost Considerations and Hospitals in Hyderabad
The cost of CyberKnife treatment for prostate cancer in Hyderabad ranges between USD 5000 and USD 7000, contingent upon individual patient conditions and the selected healthcare facility. Hyderabad, renowned for its healthcare excellence, hosts numerous hospitals offering cutting-edge treatments like CyberKnife.
Embarking on the CyberKnife journey for prostate cancer signifies a progressive approach to treatment, coupling technological precision with patient-centric care. Always consult with healthcare professionals to tailor the treatment plan to your unique medical profile.
This article was last updated on November 14, 2023
Related articles:
Recommended topics in:
Cancer