The World's Best Hospitals 2023 program, which Newsweek and Statista Inc. jointly unveiled, is a prestigious honor that highlights outstanding medical facilities from 28 different countries. The USA, Germany, Japan, South Korea, France, Italy, United Kingdom, Spain, Brazil, Canada, India, Australia, Mexico, The Netherlands, Austria, Thailand, Switzerland, Sweden, Belgium, Finland, Norway, Denmark, Israel, Singapore, United Arab Emirates, Colombia, Saudi Arabia, and Taiwan are all included in this extensive analysis.
The World's Best Hospitals 2023 list employs a thorough methodology to assess more than 2,300 hospitals using four crucial factors:
Recommendations for Hospitals from Medical Professionals: This requires a significant, global online poll that was distributed to a network of more than 80,000 reputable healthcare practitioners.
Patient Experience: This dimension, which captures the essence of a patient's pleasure with their hospital stay, is measured through a specific patient satisfaction survey.
Patient Reported Outcome Measures (PROM): Obtaining data from polls that carefully evaluate how satisfied patients are with healthcare services.
Hospital Quality Metrics: A variety of elements, from patient safety and sanitary precautions to wait times and the standard of care provided, affect this important aspect.
According to Newsweek's approach, each hospital's unique scores were painstakingly calculated across the four assessment areas. These results were then used to create a composite rating of the top universities in each unique nation. Peer recommendations carried a weight of 49% at the national level and 5% internationally in the agglomeration of data points, for example. Patient experience is also given a 14.5% weight, hospital quality metrics a 29% weight, and PROM implementation a 2.5% weight.
This initiative's emphasis on hospitals that received international recognition as a result of the survey process, their national rankings, and their contributions to the world of medicine are notable aspects. It's important to note that the global rating, which concentrated on the general medical environment, did not include specialist facilities.
Additionally, Newsweek's dedication to honoring the best of the best extends to specific nations. For instance, Newsweek's expert evaluation uncovered more than 100 hospitals in India that stand out as the best medical facilities in the country. This thorough examination highlights the commitment of organizations who have attained commendable standards of medical treatment and patient happiness, paying respect to healthcare excellence.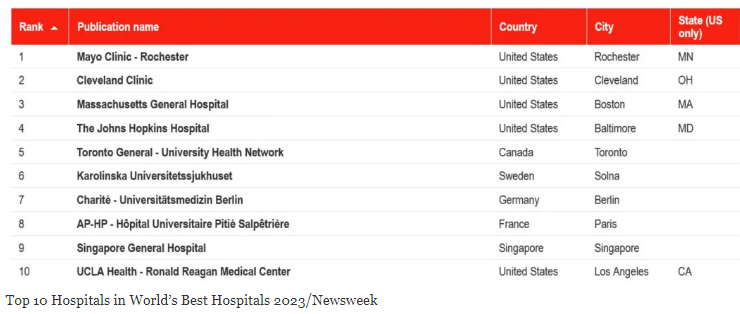 1. Mayo Clinic - Rochester, US:
Renowned for its comprehensive medical care and research.
Located in Rochester, Minnesota.
Known for its patient-centered approach and high-quality healthcare.
2. Cleveland Clinic, US (Cleveland):
A top hospital known for its expertise in various medical specialties.
Located in Cleveland, Ohio.
Focuses on patient care, research, and medical education.
3. Massachusetts General Hospital, US (Boston):
A major teaching hospital affiliated with Harvard Medical School.
Situated in Boston, Massachusetts.
Known for its medical advancements and comprehensive patient care.
4. The Johns Hopkins Hospital, US (Baltimore):
A world-renowned hospital and research institution.
Located in Baltimore, Maryland.
Known for its cutting-edge medical research and specialized patient care.
5. Toronto General - University Health Network, Canada (Toronto):
One of Canada's leading hospitals.
Located in Toronto, Ontario.
Part of the University Health Network and known for its expertise in cardiovascular care, transplantation, and research.
6. Karolinska Universitets Hospital, Sweden (Solna):
One of Sweden's most prominent hospitals.
Located in Solna, near Stockholm.
Associated with the Karolinska Institute and recognized for medical research and education.
7. Charité Universitätsmedizin Berlin, Germany:
Europe's largest university hospital.
Located in Berlin, Germany.
Known for its extensive medical services and research contributions.
8. AP-HP Hôpital Universitaire Pitié Salpêtrière, France (Paris):
A major teaching hospital in Paris.
Part of the Assistance Publique - Hôpitaux de Paris network.
Offers a wide range of medical services and is involved in research and educati9. on.
9. Singapore General Hospital:
One of Singapore's largest and oldest hospitals.
Offers comprehensive healthcare services and is known for its medical expertise.
10. UCLA Health - Ronald Reagan Medical Center, US (Los Angeles):
Part of the University of California, Los Angeles (UCLA) health system.
Located in Los Angeles, California.
Offers advanced medical care, research, and education.
World's Best Hospitals 2023 - India (By Newsweek)

1
All India Institute of Medical Sciences - Delhi
93.00%
New Delhi
2
Medanta The Medicity
84.72%
Gurugram
3
Apollo Hospital - Chennai
84.65%
Chennai
4
The Christian Medical College
83.27%
Vellore
5
PGIMER - Postgraduate Institute of Medical Education and Research
82.13%
Chandigarh
6
P. D. Hinduja National Hospital & Medical Research Centre
81.12%
Mumbai
7
Breach Candy Hospital
81.07%
Mumbai
8
Kokilaben Dhirubhai Ambani Hospital & Medical Research Institute
80.82%
Mumbai
9
Sir Ganga Ram Hospital
80.81%
New Delhi
10
Indraprastha Apollo Hospital
80.74%
New Delhi
11
Apollo Hospital - Secunderabad
80.14%
Secunderabad
12
Max Super Speciality Hospital, Saket
80.09%
New Delhi
13
Jawaharlal Institute of Postgraduate Medical Education and Research
80.01%
Puducherry
14
Apollo Hospitals - Belapur
79.89%
Navi Mumbai
15
Fortis Flt. Lt. Rajan Dhall Hospital
79.87%
New Delhi
16
Manipal Hospital Old Airport Road
79.77%
Bengaluru
17
King Edward Memorial Hospital
79.71%
Mumbai
18
Apollo Hospitals - Bannerghatta Road
79.10%
Bengaluru
19
Jaslok Hospital and Research Centre
76.06%
Mumbai
20
Bombay Hospital & Medical Research Centre
75.76%
Mumbai
21
Safdarjung Hospital
75.58%
New Delhi
22
Fortis Memorial Research Institute
75.50%
Gurugram
23
Fortis Hospital Mulund
75.21%
Mumbai
24
Care Institute Of Medical Science
75.14%
Ahmedabad
25
Saifee Hospital
75.10%
Mumbai
26
Lilavati Hospital And Research Centre
75.09%
Mumbai
27
Aster CMI Hospital
75.08%
Bengaluru
28
Nanavati Max Super Speciality Hospital
74.92%
Mumbai
29
BGS Gleneagles Global Hospitals
74.85%
Bengaluru
30
Kauvery Hospital
74.76%
Chennai
31
All India Institute of Medical Sciences - Raipur
74.41%
Raipur
32
Apollomedics Super Speciality Hospital
74.26%
Lucknow
33
Yashoda Hospitals - Somajiguda
74.07%
Hyderabad
34
Gleneagles Global Hospitals
73.99%
Hyderabad
35
AMRI Hospital - Salt Lake
73.85%
Kolkata
36
Fortis Hiranandani Hospital
73.77%
Navi Mumbai
37
Madras Medical Mission Hospital
73.76%
Chennai
38
Dr. L H Hiranandani Hospital
73.12%
Mumbai
39
Global Hospitals
73.04%
Mumbai
40
Fortis Hospital Nagarbhavi
72.81%
Bengaluru
41
Ruby Hall Clinic, Sassoon Road
72.64%
Pune
42
Aster Medcity
72.44%
Kochi
43
Ruby General Hospital
72.43%
Kolkata
44
Apollo Hospital - Jubilee Hills
72.40%
Hyderabad
45
Lok Nayak Hospital
72.34%
Delhi
46
CARE Hospitals - Banjara Hills
72.26%
Hyderabad
47
Fortis Malar Hospital
72.24%
Chennai
48
Dr. Ram Manohar Lohia Hospital
72.12%
New Delhi
49
Apollo Hospitals - Ahmedabad
72.10%
Ahmedabad
50
Apollo Specialty Hospitals - Vanagaram
72.06%
Chennai
51
Gleneagles Global Health City
72.05%
Chennai
52
Institute of Post Graduate Medical Education and Research
71.91%
Kolkata
53
Yashoda Hospital - Secunderabad
71.57%
Secunderabad
54
MGM Healthcare
71.40%
Chennai
55
Sri Ramachandra Medical Centre
71.22%
Chennai
56
Sir H. N. Reliance Foundation Hospital and Research Centre
70.76%
Mumbai
57
Artemis Hospital Gurgaon
70.21%
Gurugram
58
Ramaiah Memorial Hospital
67.82%
Bengaluru
59
Sterling Hospital Ahmedabad
67.76%
Ahmedabad
60
All India Institute of Medical Sciences - Rishikesh
67.67%
Rishikesh
61
SMS Hospital
67.66%
Jaipur
62
SIMS Hospital
67.63%
Chennai
63
Kohinoor Hospital
67.59%
Mumbai
64
Sunshine Hospitals
67.44%
Secunderabad
65
Dr. Mehta's Hospitals
67.34%
Chennai
66
Ahmedabad Institute of Medical Services
67.13%
Ahmedabad
67
Manipal Hospital Whitefield
66.79%
Bengaluru
68
Continental Hospitals
66.58%
Hyderabad
69
Amrita Hospital, Kochi
66.51%
Kochi
70
BLK - Max Super Specialty Hospital
66.33%
New Delhi
71
CritiCare Asia Hospitals & Research Center
66.32%
Mumbai
72
All India Institute of Medical Sciences - Patna
66.22%
Patna
73
P.D. Hinduja Hospital and Medical Research Centre, Khar Facility
66.05%
Mumbai
74
A.A.Rahim Memorial District Hospital Kollam
65.94%
Kollam
75
Yashoda Hospital - Malakpet
65.92%
Hyderabad
76
Christian Medical College and Hospital (CMC)
65.82%
Ludhiana
77
Rabindranath Tagore International Institute Of Cardiac Sciences
65.76%
Kolkata
78
MGM New Bombay Hospital
65.73%
Navi Mumbai
79
HOSMAT Multi Speciality Hospital
65.61%
Bengaluru
80
All India Institute of Medical Sciences - Bhubaneswar
65.56%
Bhubaneswar
81
Prince Aly Khan Hospital
65.53%
Mumbai
82
Apollo Gleneagles Hospitals
65.52%
Kolkata
83
MIOT International
65.47%
Chennai
84
Aakash Hospital
65.37%
Chennai
85
Meitra Hospital, Calicut
65.31%
Kozhikode
86
Anugrah Narayan Magadh Medical College & Hospital
65.08%
Gaya
87
Mazumdar Shaw Medical Center
65.00%
Bengaluru
88
Billroth Hospitals
64.92%
Chennai
89
Sanjay Gandhi Postgraduate Institute of Medical Sciences
64.90%
Lucknow
90
KIMS Hospital
64.89%
Secunderabad
91
Aster MIMS Hospital
64.79%
Kozhikode
92
KMC Hospital
64.67%
Mangaluru
93
St. John's Medical College Hospital
64.59%
Bengaluru
specialized
American Oncology Institute, Nallagandla - Oncology
Hyderabad
specialized
Asian Institute Of Gastroenterology - Gastroenterology
Hyderabad
specialized
Fortis Escorts Heart Institute - Cardiology
New Delhi
specialized
Narayana Institute of Cardiac Sciences - Cardiology
Bengaluru
specialized
Rainbow Children's Hospital & BirthRight, Marathahalli - Pediatrics, Obstetrics, Gynecology & Fertility
Bengaluru
specialized
Ramaiah Narayana Heart Centre - Cardiology
Bengaluru
specialized
Tata Memorial Hospital - Oncology
Mumbai
This article was last updated on August 11, 2023
Related articles:
Recommended topics in:
Hospital