Introduction:
Institute of Neurosciences Kolkata (INK) is a specialized hospital dedicated to the treatment of neurological disorders. It is a unit of Peerless Hospital and B.K. Roy Research Center, located in Kolkata, West Bengal, India.
Due to nerve issues, a lot of people are feeling very unhealthy in this society. I am posting this for the betterment of humanity so that people can benefit from it.
Bangur Hospital
Kolkata Neuro Hospital
Kolkata Bangur Hospital
MR Bangur Hospital, also known as the Bangur Institute of Neurosciences, is one of the most advanced neurological hospitals in West Bengal, located in Kolkata. It is one of the best government hospitals in Kolkata and is fully equipped with excellent facilities, friendly staff, a peaceful and tranquil environment. In August 2021, Kolkata's MR Bangur Hospital received the tag of the best district hospital from the policy commission.
Address:
Institute of Neurosciences Kolkata (I-NK)
185/1, AJC Bose Road, Kolkata - 700 017
Tel : (+91 33) 2286 9999, 2286 7094/95 Fax : (+91 33) 2286 7097
24x7 Helpline : (+91) 98309 64646 (O.P.D), (+91) 98308 64646 (I.P.D)
Contact number:
+91-33-4011-1222
+91-33-2462-2394
+91-33-2462-2395
Contact numbers for Bangur Hospital:
Ward Master Office: 88 2070 2070
Patient Assistance Center: 88 2020 7070
Complaints Cell: 88 2020 7070
Blood Bank: 2472 7873
Police Assistance Booth: 2499 4153
Patient Support Centers (SSAHI): 62914 0278
62914 0278
Emergency:
INK has a dedicated emergency department that operates 24x7. The hospital has an ambulance service to transport patients to the hospital in case of emergencies.
Blood bank:
INK has a blood bank that operates round the clock. The blood bank is equipped with modern facilities and has a stock of all blood types.
Accreditation:
INK is accredited by the National Accreditation Board for Hospitals and Healthcare Providers (NABH), which is the highest accreditation for healthcare providers in India.
Services and Facilities:
INK offers a range of facilities such as OPD services, IPD services, ICU, NICU, PICU, Dialysis, MRI, CT Scan, X-ray, Ultrasound, and other diagnostic services. The hospital also has a cafeteria, pharmacy, and parking facilities for patients and visitors.
Endovascular Treatment for Aneursym, AVM, Thrombolysis of
Cerebral Arteries
Advance Brain & Spinal Endoscope for Minimal Invasive Surgery
MRI with Spectroscopy, DTI, SWI, Perfusion and Angiogram facilities
Multi-Slice CT Scanner with Angiogram, 3D, VRT facilities
DSA for Brain & Spine Angiography
USG with 3D,4D facilities and Whole Body Colour Doppler
Fully Air-conditioned 150 beds
4 Operation Theaters, 24 Bed ITU, 10 Bed HDU
Executive Floor with 5 Star Facilities
Critical Care Ambulance
24x7 Pharmacy, CT Scan, X-Ray, USG
Departments:
INK has a range of departments that cater to various neurological needs. Some of the departments include Neurology, Neurosurgery, Neuropsychology, Neuroimaging, Neurophysiology, Neuro-rehabilitation, and Pediatric Neurology.
Speciality Clinics:
Stroke Clinic
Spine Clinic
Pain Clinic
Adult Epilepsy Clinic
Paediatric Epilepsy Clinic
Paediatric Movement Disorders Clinic
Multi-disciplinary Child Psychiatry Clinic
Parkinson's Disease and Movement Disorders Clinic
Botox Clinic for Movement Disorders and Spasticity
Neuropathology:
Fully Automated High Quality Pathology Lab
24x7 Emergency Pathology Service Available
Facility of Home Collection (8 am to 5 pm)
Neurohistopathology & Histopathology
Immunohistochemistry
Intra - Operative Squash Cytology
Neuro - Specific Drug Assays
Arterial Blood Gas (ABG)
Cytology & All Types of Cultures
Tie Ups:
TPA : We have tie-ups with all major TPAs.
Some of our Esteemed Corporate members : Kolkata
Police, L&T, GRSE, RBI, KOPT, Haldia Dock, IFFCO, SBI,
PNB, Tata Steel, EIL, ESI, Etc.
Enlisted with West Bengal Health Scheme
Clinical Services:
Neurosurgery
Minimally invasive surgery for brain tumours, surgery for cerebral stroke
State-of-the-art treatment for traumatic brain injuries
Stereotactic biopsy of deep seated lesions in the brain
Complex spinal surgery for trauma, degenerative disorders and spinal tumours
Endoscopic brain and spine surgery adds minimally invasive nature of difficult
operations
Neuromedicine
Treatment of all neurological problems, including state-of-the-art Multi
Disciplinary management of complex diseases e.g. Parkinson's etc
Paediatric Neurology
Optimal care for children with complex neurological disorders e.g., Epilepsy,
Nerve and Muscle diseases, Genetic & Metabolic diseases as well as delay in
Neurodevelopment, Cerebal palsy, Autistic Spectrum Disorder, Behavioural &
Psychiatric disorders.
All types of acute Neurological Emergencies in babies & children, e.g.,
Meningitis, Encephalitis, Childhood Stroke, Prolonged Convulsions, Headache
of different kinds, sudden onset of Paralysis of body parts, sudden nerve &
muscle injuries or Neuro-muscular diseases.
Neuro Psychiatry
State-of-the-art treatment for patient's presenting with depression, mania,
schizophrenia (odd beliefs and behaviours), obsessive compulsive disorders
(Repetitive washing, cleaning, checking), drug abuse, etc.
Management of childhood behavioural disorders.
Neuro Radiology
Interventional Neuro-Radiology treating complex neurovascular problems
likes intracranial aneurysms, arterio-venous malformations/fistulas, ischemic
stroke & caroticocavernous fistulas where neurosurgery is either not possible
or associated with significant morbidity and mortality.
Neuro Rehabilitation
Offers 360 degree care involving Physiotherapy, Occupational Therapy,
Cognitive Therapy, Speech Therapy and Rehabilitation in a seamless manner.
It is not just treatment, it is getting you back to society.
Mediclaim facility:
INK accepts various mediclaim policies, including cashless mediclaim policies. Patients can check with the hospital regarding the specific policies accepted.
Number of beds:
INK has a total of 150 beds, making it one of the largest hospitals in the region for neurological disorders.
Patient experience:
INK has received positive reviews from patients regarding the quality of medical services provided, the behavior of staff, and the overall cleanliness and hygiene of the hospital. The hospital has also received recognition for its social responsibility activities.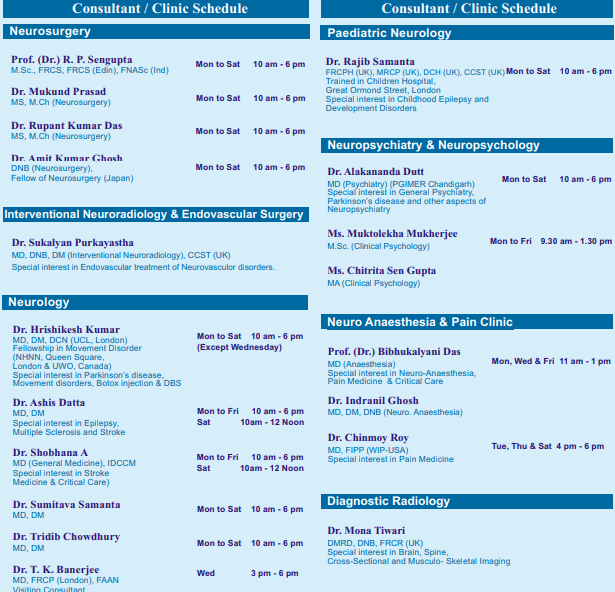 Orthopaedic Clinic
Dr. Arindam Banerjee FRCS, D.Orth Trauma (Vienna), M.Sc Orth (London) Mon 4 pm to 6 pm Thu 12 Noon to 6 pm

Pathology Dr. Arijit Kumar Mukherjee Dr. Poulami Nandi MD (Path.) MD (Microbiology)

OPD LIST Bangur Institute of Neurosciences
NEURO MEDICINE
MONDAY
Prof.B.K.Roy,
Prof.A.Pandit,
Dr.S.Dubey,
Dr.Sumit
Sarkar
TUESDAY
Prof.B.K.Roy,
Prof.A.Pandit,
Dr.S.Dubey,
Dr.Sumit
Sarkar
WEDNESDAY
Prof.Dr.T.N.
Kundu,
Prof.A.Biswa s,
Dr.U.Sinharo y,
Dr.J.Ghosa
THURSDAY
Prof.G.Gangop adhyay,
Dr.S.Biswas,
Dr. Arijit Ray,
Dr.A.Mukherje e,
Dr.Sumanta
Sarkar
FRIDAY
Prof.Dr.T.N. Kundu,
Prof.A.Bisw as,
Dr.U.Sinhar oy,
Dr.J.Ghosal
Prof.Dr.T.N.K
SATURDAY
Prof.G.Gangopadhyay,
Dr. Arijit Ray, Dr.A.Mukherjee
Dr.S.Biswas, Dr.Sumanta Sarkar
NEURO SURGERY
MONDAY
Dr.S.I.Sadique,
Dr.Gitanjali
Dutta, Dr.Sibaji
Dasgupta
TUESDAY
Prof.Dr.Subh
asis Ghosh,
Dr.Anirudhha
Chatterjee,
Dr.S.Chaudhu ri
WEDNESDAY
Prof.Dr.Subh
asis Ghosh,
Dr.Anirudhha
Chatterjee,
Dr.S.Chaudhu ri
THURSDAY
Dr.S.I.Sadique,
Dr.Gitanjali
Dutta, Dr.Sibaji
Dasgupta
FRIDAY
Prof.Dr.Sub
hasis
Ghosh,
Dr.Anirudh ha
Chatterjee,
Dr.S.Chaud huri
SATURDAY
Dr.S.I.Sadique
Dr.Gitanjali
Dutta,
Dr.Sibaji
Dasgupta
In the list of doctors at Bangur Hospital, you can find the names of Kolkata's top 10 neurosurgeons.
Dr. Subhashis Ghosh
MBBS, MS (General Surgery), MCh (Neurosurgery)
Consultant Neurosurgeon
Monday, Wednesday, Thursday
Dr. Divyendu Kumar Roy
MBBS, MS (General Surgery), MCh (Neurosurgery)
Consultant Neurosurgeon
Tuesday, Friday
Dr. Shahid Iftekhar Siddique
MBBS (General Surgery), MCh (Neurosurgery)
Consultant Neurosurgeon
Monday, Wednesday, Saturday
Dr. Srikrisna Mazumder
MBBS, MS (General Surgery), MCh (Neurosurgery)
Consultant Neurosurgeon
Thursday, Friday, Saturday
Dr. Gitangali Datta
MBBS, MS (General Surgery), MCh (Neurosurgery)
Consultant Neurosurgeon
Monday, Saturday
How to register online:
Then select the 'OPD Ticket Booking' option.
Alternatively, click on the link below-
Submit a phone number to receive OTP.
Now, enter the received OTP number and verify the phone number.
After verifying the number, a new page will open, select from the drop-down menu which government hospital's OPD ticket you want to get.
Provide all the necessary information along with the preferred date and the doctor's name and room number you want to see. Then save the details, and you are done!
How to see a doctor offline?
Many people come here to see the doctor.
So, you have to line up from 5 am.
After that, you have to buy a ticket by paying 2 taka from the counter.
Then you will be given a serial number from the counter.
You have to go straight to that department with that serial number and wait in line.
Show the serial number to the doctor and then you can see the doctor.
Note/Disclaimer: The doctor information provided in this guide has been sourced from the official website of the hospital, and is intended for educational purposes only. While every effort has been made to ensure accuracy, the information may be subject to change without prior notice. It is important to consult a qualified healthcare professional for any medical advice or treatment. The hospital and the author of this guide do not endorse or recommend any specific doctors, treatments or procedures mentioned herein. Please refer
https://neurokolkata.org/
for more details.
Recommended topics in:
Hospital