We can help if you're seeking for reputable and reasonably priced dental clinics in Delhi to receive braces or other dental treatments. We'll give you details about dental practices that offer braces, dental implants, root canal therapy, teeth straightening, and other services, along with an estimate of the cost of each surgery.

1. Dental braces in Delhi: Wearing braces can assist correct overjetted anterior teeth, which are anterior teeth that are slightly positioned forward. Depending on the type of braces you select, braces in Delhi can cost anything from:
Metal Braces: The most economical option, with costs averaging around 3,000 to 5,000 INR per tooth, making it suitable for most cases.
Ceramic Braces: These are tooth-colored and less noticeable than metal braces, costing around 5,000 to 7,000 INR per tooth.
Invisible Lingual Braces: Placed on the backside of your teeth, they are virtually invisible but come at a higher cost, ranging from 50,000 to 1,00,000 INR.
Clear Path/Aligners: These are clear plastic trays that gradually shift your teeth. The cost can range from 1,00,000 to 2,00,000 INR.
2. Best Root Canal Specialist in Noida:
If you're in need of a root canal specialist in Noida, Dr. Vikash's Ethical Care comes highly recommended. Satisfied patients praise the clinic's thorough check-ups, effective treatment plans, and successful restoration of their smiles. The clinic is known for its experienced team of doctors and the use of modern dental technology.
3. Cost of Dental Braces in India:
If you are considering braces treatment, you can find affordable options in India. The cost of braces can vary based on the city and the type of braces you choose. Metal braces typically start from around 25,000 to 30,000 INR for the entire treatment. If you prefer more discreet options like ceramic braces or invisible aligners, the cost may go up to 50,000 to 2,00,000 INR. The duration of treatment can range from 3 to 24 months, depending on the complexity of your case.
4. Dr. Bhutani Dental Clinic in Delhi:
For dental implants and various dental treatments, Dr. Bhutani Dental Clinic in Delhi stands as a reliable option. The clinic is known for its experienced team of doctors and offers a wide range of dental implant systems to suit individual needs and budgets. They use modern technology, such as the 3Shape TRIOS digital scanner, for better accuracy and precision.
5. Cosmodontist Dental and Implant Center in Delhi:
Cosmodontist Dental and Implant Center, owned by Dr. Nilay Bhatia and Dr. Vidushi Mayor, is a reputable multi-specialty dental clinic in Delhi. The clinic boasts ultra-modern dental technology and well-trained staff, offering world-class dental procedures at affordable prices.
6. How to Choose the Best Dental Clinic:
When choosing a dental clinic, consider factors such as the dentist's qualifications, specialization, experience, and the clinic's location and working hours. Check if the clinic offers the specific treatment you require and read reviews from previous patients to gauge their satisfaction.
Which dental office in South Delhi is the best?
One of South Delhi's top dental clinics is Cosmodent India. Saket, India's capital, is home to the top group of dental surgeons.
Dr.Shashank Arora-MDS Endodontics
Dr.Anika Arora-MDS Endodontics
Dr.Hussain Wardhawala-MDS Orthodontics
Dr.Komal Nebhnani-MDS Pedodontics
Dr.Aman Ahuja-Masters in immediate implants Germany; Advanced fellowship in implantology New York University
Which dental office in Gurgaon is the best?
In DLF Phase 4, Dr. Nilay Bhatia (cosmodontist dental & implant center) runs a very upscale practice.
Who in Delhi operates the top dental office?
For dental care in Delhi, we have tried a lot of private clinics. All eyes are on the money or business; nobody cares about your issue. When you go for treatment for one tooth, they destroy three others and cap or crown them. The only treatments provided by dentists are root canals and crowns. Each tooth costs about Rs. 3500-5000.
Last but not least, we were aware of the Maulana Azad Institute of Medical Sciences (MAIDS), located at the Bahadur Shah Zafar Marg, New Delhi, 110 002.
Best, and well equipped Govt. dental college and hospital. Nominal fee/ charges. No rush, easy to get treatment.
Is Delhi's Dr. Bhutani Dental Clinic a nice place?
I must mention that the Dr. Bhutani Dental Implants Clinic in Delhi is the best dental clinic if you're referring to it. They have a skilled medical staff. The Best Dentist in Delhi since 1921 is Dr. Bhutani.
Since its establishment in 2002, the Dr. Bhutani Dental Clinic has served 300+ contented clients. The Clinic holds a BLS certification.
Who is the best root canal expert in Noida?
I switched dentists for nearly three years in an effort to fill the gaps in my teeth and improve the appearance of my smile. But things got worse for me over time. I visited Dr. Vikash's Ethical Care after witnessing his cases and reading reports about him.
Following a comprehensive examination, a treatment plan is chosen, and my smile is recovered within a week. I'm grateful to Dr. Vikash and his staff for providing me with a stunning smile.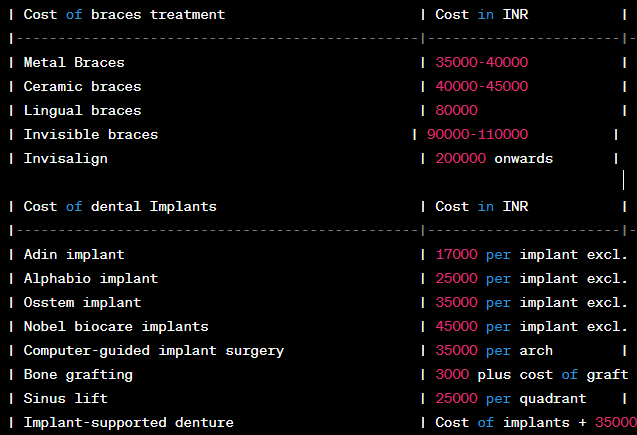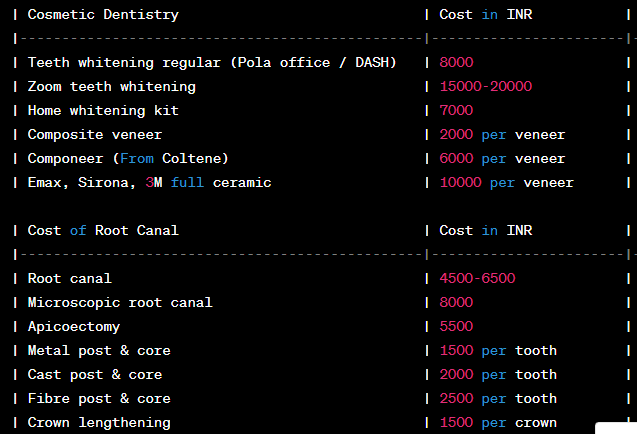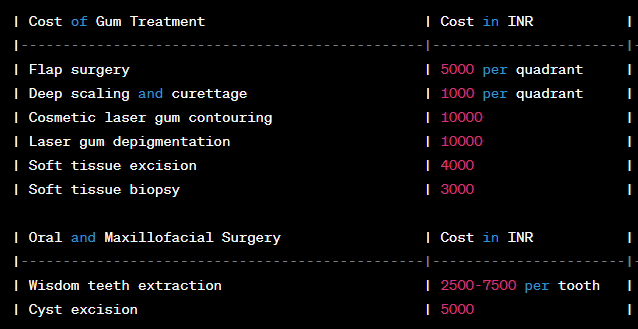 Disclaimer: The information provided in this table is based on patients' experiences and has been compiled from various sources available on the internet, including but not limited to Quora and other trusted websites. The data is intended for informational purposes only and should not be construed as professional dental advice or endorsement.
The content in this table is not a substitute for personalized dental consultation or treatment recommendations from qualified dental professionals. Dental treatments and costs can vary significantly depending on individual circumstances, dental conditions, geographical location, and other factors.
Readers are advised to exercise their own discretion and judgment while using this information and should verify the details with reputable dental clinics or practitioners before making any decisions regarding dental treatments. The table does not endorse or promote any specific dental clinic, doctor, or treatment provider.
The dental field is subject to continuous advancements, and the information presented here may become outdated or inaccurate over time. Therefore, it is recommended to seek up-to-date and reliable information from reputable sources or dental practitioners.
Users of this information should be aware that patient experiences can be subjective, and individual results may vary. It is essential to consult with a qualified dental professional for a personalized evaluation and treatment plan tailored to individual dental needs.
This article was last updated on August 01, 2023
Related articles:
Recommended topics in:
Others